Kia Soul EV will get you noticed
29/04/2020 12:23 pm

Staff
In a competitive field, this is a dramatically better offering than the previous Soul EV, which ceased sales in 2018.
Every exterior panel on the car is new but it remains instantly recognizable to fans of the old car.
Kia claims the new-generation 64kW/h battery pack powering this car have 25% greater cell energy density and are up to 30% more efficient than most rival electric cars, and Soul EV's 150kW electric motors deliver 39% more torque than the old model. Power is up by 84% to 105PS.
Thanks to having a DC charger as standard, long-distance commuters could charge Soul EV on a service area's 100kW fast-charger to 80% in less than an hour – adding around 383 KM.
On a 7.2kW home charger, it'll need overnight (9.5 hours) from flat to full.
Regenerative braking is selectable on Soul EV in four levels (from none to three) because Kia is conscious some drivers new to EVs want to brake as they've always done, whereas experienced EV drivers may be used to 'single-pedal' driving as the car slows automatically once the accelerator is released.
Standard Drive Mode Select lets drivers adapt the car to their preferred style or the road conditions, by choosing between Normal, Eco, Eco+, and Sport modes.
Should drivers wish to sacrifice range, this car can sprint in 7.6 seconds from standstill to 60mph.
On the test-drive, sales executives should ensure prospective buyers use the head-up display which projects navigation and speed information in front of them.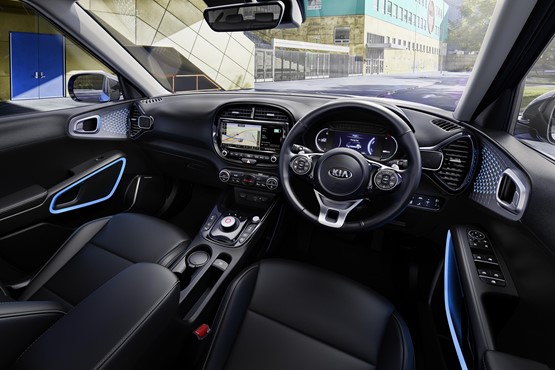 They'll also appreciate the powerful LED lights all around, black leather upholstery, heated front seats, and steering wheel, adaptive cruise control, a raft of safety systems, and a wireless phone charger at the base of the dashboard.
Soul EV is extremely comfortable, and thanks to its boxy shape and width there's no risk of front occupants rubbing shoulders and rear passengers have great headroom.
It is refined and quiet at low speeds too, thanks to the electric powertrain.
At higher speeds, tire noise is a little intrusive. That can be drowned out quite easily by its 10-speaker Harman/Kardon premium stereo, which is controlled through a 10-inch touchscreen.
Drivers of Soul EV will get noticed.
This quirky car is not for wallflowers, and Kia has enhanced its extrovert styling by offering it in three two-tone color combinations, mixing bright bodywork with contrasting shades for the roof and door mirror caps.
The UK cars also feature an SUV Pack as standard, which brings prominent wheel arch and sill cladding and a skid plate on the front bumper.
Kia has added the Soul EV alongside the E-Niro, the first battery-electric vehicle in its current line-up, and expects one in three of its Canada sales in 2020 to be 'electrified' models (pure electric, plug-in hybrid or self-charging hybrid).
Given the growing desire for EVs, driven by company car tax regime changes, and raised awareness of the real-world capabilities of the latest models, Kia's funky crossover should happily play its part and appeal to EV advocates who want to be noticed.